Winter Wedding Centerpieces
Here are some fantastic ideas on picking out winter wedding centerpieces. The choices are aplenty. For example, white flowers always appear sophisticated adding a high-class ambiance to your wedding reception. Other flowers that also are great choices include snowdrops, hyacinths and irises. If you are looking to add color to your winter wedding centerpieces, red and green are two good choices. A more muted color choice would be blue, or ice blue. And you can use ice sculptures are your winter wedding centerpieces - but they are a little bit pricey.
Winter Wedding Centerpieces
By Patri Truman
There is always something magical about getting married in the winter, especially around Christmas time. It is the time of year when the family gather together to celebrate the holidays, and so it is just very special if you are planning on getting married around such a festive occasion. But there are so many other advantages when getting married in the winter. If you plan your wedding one year in advance, you can get lots of winter decor objects for your wedding centerpieces the year before at great prices. You just have to make sure you really plan ahead!
So many decorative items get marked down after the holiday season. From lovely poinsettia flowers, to strings of wonderful shiny lights, greeting cards, candles, silk flowers, Christmas decorations... the list is endless.
Your wedding centerpieces could look really great at a very low cost. It is really easy to fire your imagination away and create great winter themed centerpieces. Also, the flowers at this time of the year are just so beautiful and perfect for the occasion, like snowdrops, hyacinths and irises. They can all add a touch of glamor to your wedding centerpieces and at the same time keep them simple and very elegant. White flowers always appear sophisticated adding a high-class ambiance that caters for all ages.
If you want to have a more colorful wedding, try other colors that really match the winter season. Red or green are perfect for the occasion. Red is likely to create a very lively mood. Your centerpieces can really stand out, or you could try mixing red and green with poinsettias and candles around your tables for a more festive theme.
Try to think outside the box. Things like frosted vases, artificial flowers, confetti that could be shaped as small hearts, mistletoe, pine cones, berries, ivy, or even fake snow. Bells can also add a warm Christmas feel to your centerpieces.
If you are not in a low budget, ice sculptures would really impress all of your guests. They could be individually tailored to each one of the tables. Then, have a big sculpture on the main table. That will surely give people something to talk about. Be adventurous; make sure your wedding decor stands out. Fire your imagination and plan well ahead. It will pay off in the end. Also, you don't want to be running around like mad in the last few days before your wedding!
Patri Truman is author of Best Wedding Centerpieces and has also written about Centerpieces For Your Winter Wedding.
Article Source: http://EzineArticles.com/?expert=Patri_Truman
Winter Wedding Centerpieces Ideas
Blue-Green Winter Wedding Colors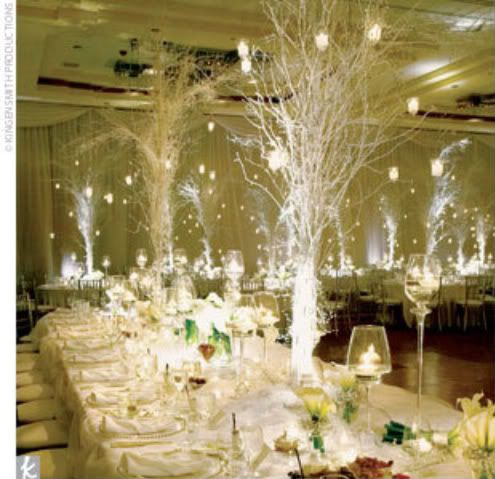 Winter Wedding Centerpiece - Magical Inspirations


Winter Wedding Centerpiece - Blue


Homemade Winter Wedding Centerpiece Ideas


Winter Wedding Centerpiece - Ice Sculpture


Winter Wedding Centerpiece

We recommend you visit WeddingDietSite.Com
for Bridal Weight Loss Tips and Ideas
so that you look your fabulous self on your wedding day!

Bookmark CoutureBridalDesigns.Blogspot.Com for More
Beautiful Designer Wedding Dresses Inspirations!

Labels: Wedding Centerpieces, Wedding Decorations, Winter Weddings
Article Link